Four Decades Of Great Flavors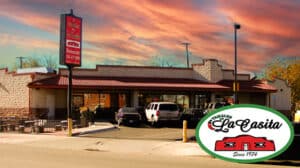 For almost 50 years, our customers have enjoyed dozens and dozens of green, red and vegetarian Tamales, breakfast burritos, enchiladas, green chile and many other delights. We make homemade green chile and red chile sauce as well. Ask about our kids menu and our gluten free items as well.
At Tamales by La Casita we take pride in the traditional New Mexican cuisine that has reflections from Mexico, the Native American Indian, and Spanish influences that date back centuries. New Mexican food is America's oldest cuisine and part of Colorado's legendary fare since the southern part of our state and New Mexico were once part of Mexico.
Find Us At 3561 Tejon St, Denver, CO 80211 & Denver International Airport!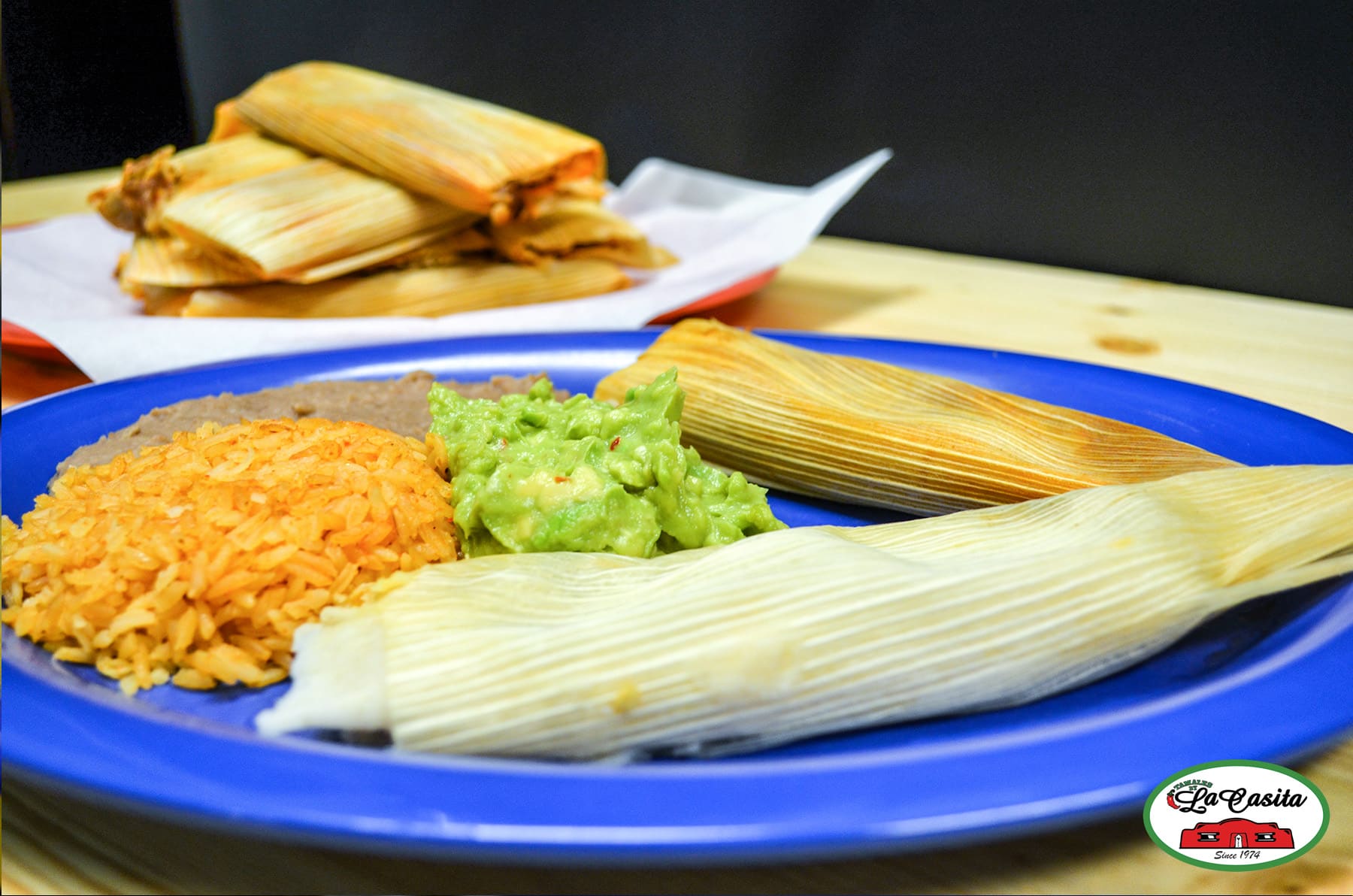 A Commitment To Our Life-Long Customers
Founder Paul Sandoval had a vision to make his family Tamales fresh every day, maintaining the highest quality at fair prices. That vision became a reality in 1975 when Paul and his family started making their "mile high traditional" Tamales in north Denver to nearly a "food cult" following.
Produce really good food, made fresh daily. Our Tamales, sauces, and the entire menu is made fresh daily. We keep the menu simple, but maintain the philosophy that if we serve it at our restaurant, we would serve it at home!
Maintain consistent quality: Regardless of food cost; quality ingredients are never compromised.
Menu prices: Very good food at very reasonable prices.
Build employee loyalty. Most of our staff has been here many years and they know what is expected to serve our valued and loyal customers.
Keep our restaurant and Tamale factory absolutely spotless and clean at all times. The restaurant and our Tamale factory is a USDA inspected factory and facility that also has state and local inspections on going. We consistently maintain outstanding scores and are very proud of our facility.
We know our customers because we provide our customers with a great quality experience and take the time to talk and listen.
Be apart of the neighborhood we serve. We are often a gathering place for families and friends.
About Our Tamales
Simmered in culture and stuffed with flavor, tamales offer something for everyone. Paul Sandoval proprietor and patriarch of the family owned and operated business started making Tamales in 1974. Today consumers are seeking good Mexican food because making great Mexican food is no accident.
At Tamales by La Casita, care is taken in every step for each and every recipe. While Tamales are the tradition at the restaurant, we also make all of our recipes from fresh ingredients made fresh each and every day.
Tamale making is both an art and a Science. Paul Sandoval, a Colorado state senator in the 70's and 80's is the proprietor with his wife Paula and his three nephews, Feliz, Julio and Paul. The family owned and operated business has turned Tamale-making into the mainstay of the restaurant.
At Tamales by La Casita, tamales are handmade first thing every morning. There're filled with masa and the Sandoval family's secret proprietary fillings. Tamales are corn husks or banana leaves stuffed with masa and a meat or vegetarian chile mixture; they're then folded and steamed. Tamales date from pre-Columbian Mexico, and because of the importance of corn to the culture, Tamales have long been served for important occasions.
At Christmas, families often gather in the kitchen to make tamales for fun and camaraderie. At the restaurant over 12,000 Tamales are made daily, steaming them in custom designed steamers. However, during the week of Christmas we sell tamales for both the restaurant and our wholesale business where customers and holiday goers line up three deep to enjoy our original recipes.
Making A Tamale Step-By-Step!
Making the perfect tamale can be time consuming, it's not surprising that customers are flocking to buy the already handmade delights that satisfy the "something-for-everyone" criterion, because our tamales are green, red, and vegetarian.
Mix the masa harina (dried corn flour); add vegetable oil, baking powder, and salt to make the dough. The dough has a consistency of cookie dough.
Utilizing an ice cream scoop or spoon, place a 2 oz dollop of dough in the center of a clean, rehydrated corn husk, the corn husk should be slightly damp for spreading.
Spread the masa with a butter knife or spatula all the way to the edges in a square, leaving 2 or 3 inches unfilled toward the point of a triangle.
Top the masa with 1.5 ounces of filling, which is made ahead of time that is well chilled to keep the Tamale from being runny.
Fold the two long sides of the corn husk like you were wrapping a package. First fold one side over just until it covers the filling, then fold the other side on top of that.
Fold the pointed end up over the folded sides, pressing down so that the ends will stay folded and you won't need to tie the husk. The Tamale will sit open-side up in the steamer, make enough room to fill your pot.
In the pot, preferably a stock pot, steam the Tamales. If you don't have a steamer to support the Tamales upright, make foil balls and place in the bottom of a pot, add hot water to just below the foils so that the Tamales are not sitting in water.
Place Tamales upright in the pot, packing them tightly, but allowing room for steam to circulate. Cover with lid or foil. Steam Tamales until the masa inside is shiny. (you may need to add water as needed). Enjoy!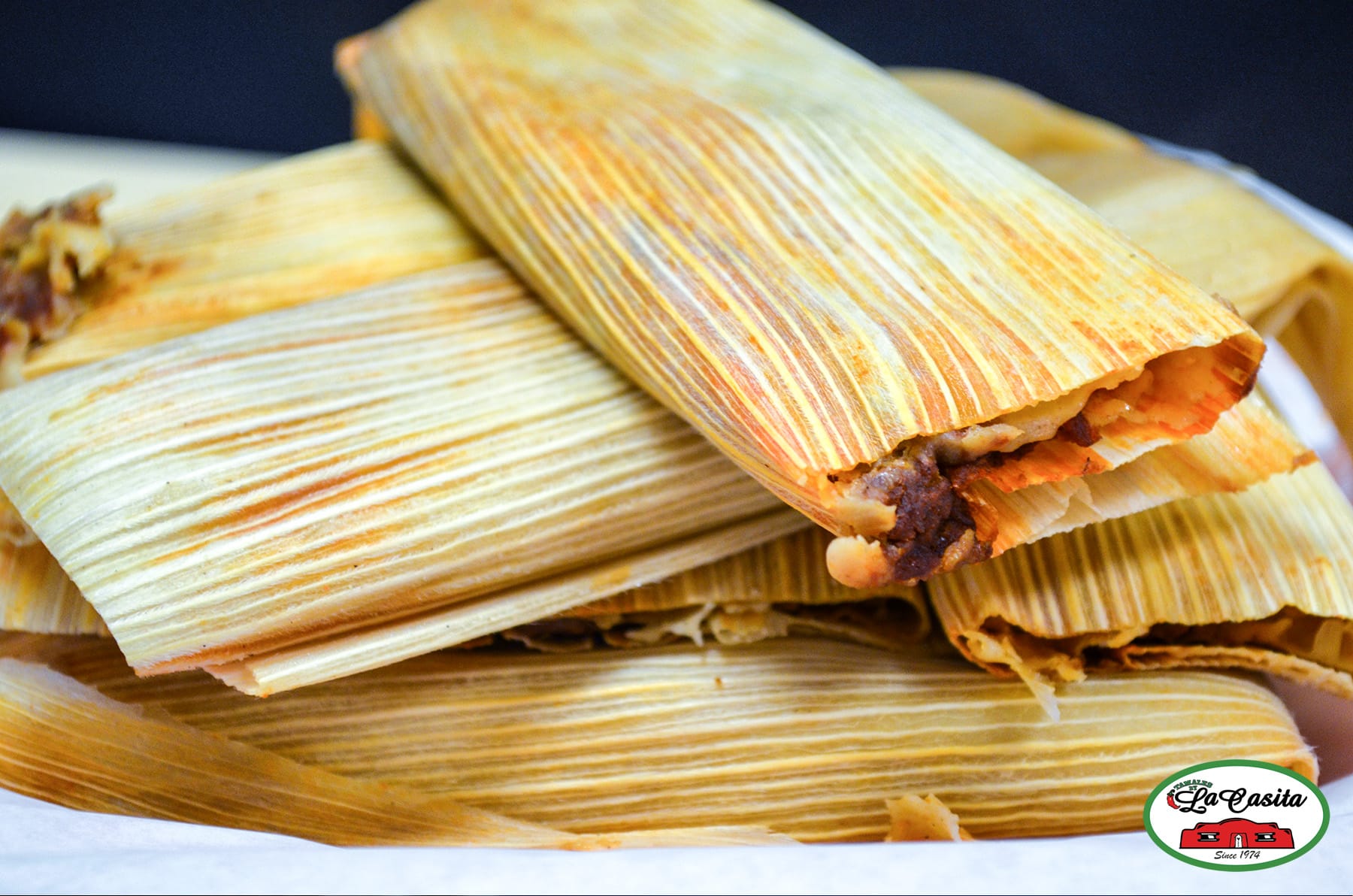 Tamales By The Dozen, Or By The Case!
Wholesale and Retail Sales Available
Since 1975 we have been providing Denver and the community we serve with the finest and best tasting tamales! Don't ask us; ask the thousands and thousands of customer's that enjoy our Tamales by La Casita every day. If you are having that special occasion, don't forget to call ahead and order. Our red chile comes from Espanola, NM and our green from Hatch, NM.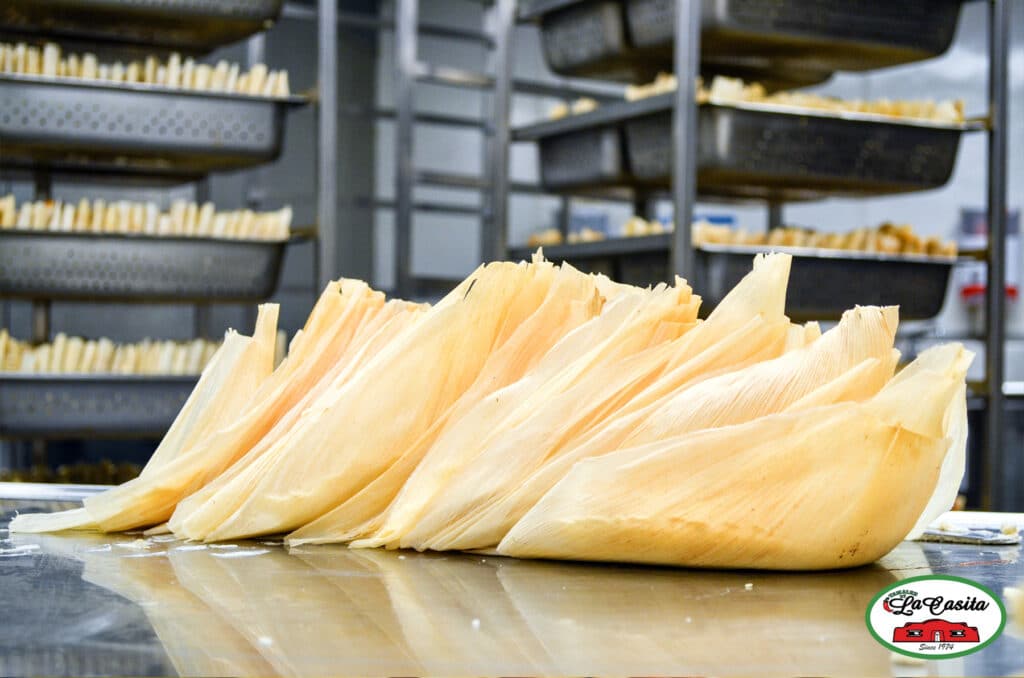 Remember we are very busy during the holiday season and lines may get long but we look forward to serving you and your family and friends as we have been serving generations with our families recipe.
By the dozen, or the by the case, Tamales by La Casita for every tamale occasion.
Red Chile and Shredded Pork Tamales
Per Dozen: Per Case (5 dzn/case) Green Chile and Cheese Tamales (vegetarian and gluten free)
Per Dozen: Per Case (5 dzn/case)
Tamales by La Casita Wholesale
Tamales by La Casita are available to qualifying wholesale customers. Our tamale factory is USDA inspected license number 18853A. We offer to qualifying accounts our red chile tamales with shredded pork and our green chile and cheddar cheese tamales (green chile tamales are gluten free and vegetarian) to wholesale accounts. Our cases are packed 5 dozen per case and our tamales are 3.5 oz each. Call 303-477-2899 for more information and quotes.